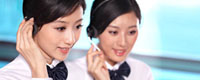 Name: Hao bin,Ni
Tel: 0769-88977096
Fax: 0769-83725800
Mobile: +86-13560850555
E-mail: 22213690@qq.com
Add: Guangdong province Dongguan City Hengli Town Town Industrial Zone, East Ring Road No. 265
QQ: 863384555

Product name : Custom lead-free tin furnace110v 220v

Item : CM101

Model : CM101

power : 800W

temperature : 0-600

size : 100X100X45MM
Details:
Customizing the lead-free tin furnace
Plug: middle gauge plug, American gauge plug, British gauge plug, European gauge plug
Voltage: AC220V AC110V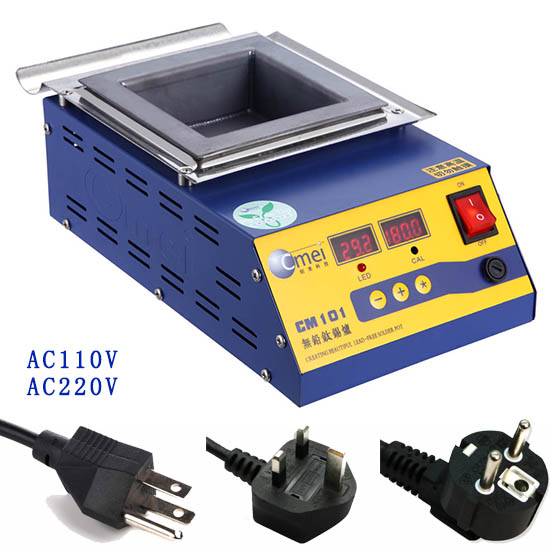 LEAD-FREE TITANIUM ALLOY SOLDERING POT
Operation instruction
Our Lead-free titanium alloy soldering pot passed by SGS, built-in advanced microcomputer digital control and display system, make it more safe, more steady and more accurate. It's a good tool for electronic fields.
FEATURES:
* With big power heater, only within 25minutes to reach 450℃ from room temperature, (Different items with a little different heating time.)
* With advanced microcomputer digital control and double displays. make it more accurate heating and fast temperature returning capability.
* The boiler made of titanium alloy, can resist high temperature, cauterization and abrasion, largely prolong the life.
* With temperature setting and locking function, will not be affected by wrong operation.
* The setting value will be saved for long time, and can not be affected by power on or off. With auto sleeping function, prolong the machine's life.
* With malfunction alarm.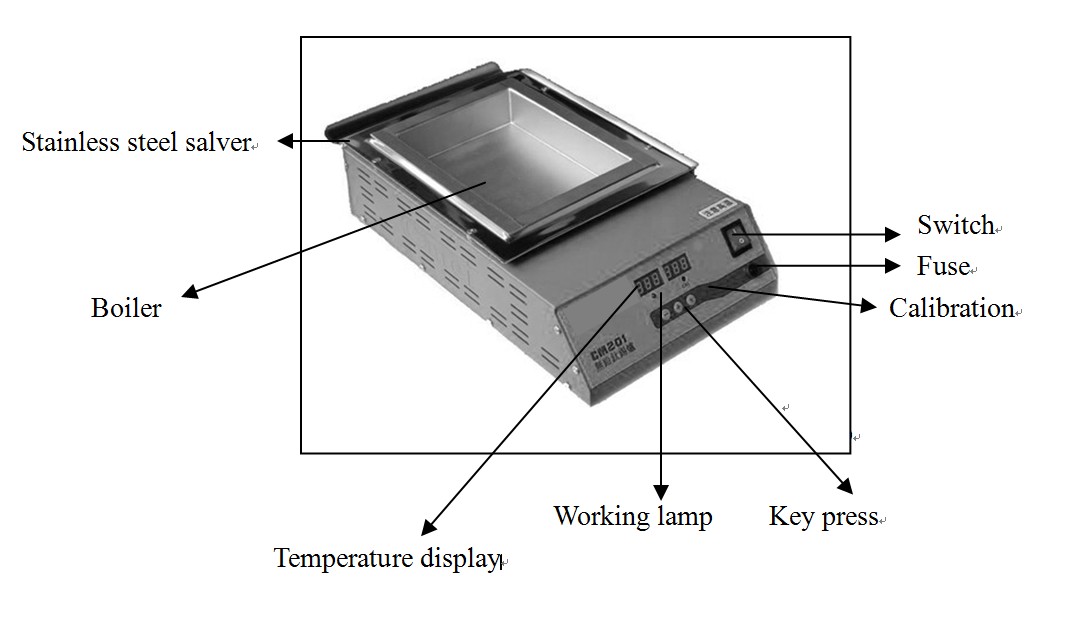 ITEM NO. :
Desk round type:
| | | | | | |
| --- | --- | --- | --- | --- | --- |
| Model | Range | Power | Whole size (mm) | Pot size (mm) | Tin capacity |
| CM-508 | 0-600℃ | 250W | 266Lx145Wx120H | Φ50x40 | 0.6kg |
| CM-808 | 0-600℃ | 400W | 327Lx175Wx120H | Φ80x40 | 1.5kg |
| CM-108 | 0-600℃ | 500W | 327Lx175Wx120H | Φ100x40 | 2.0kg |
Stand type:
| | | | | | |
| --- | --- | --- | --- | --- | --- |
| Model | Range | Power | Whole size(mm) | Pot size (mm) | Tin capacity |
| CM-600 | 0-600℃ | 2400W | 380Lx300Wx680H | 300x240x50 | 26.2kg |
| CM-602 | 0-600℃ | 2600W | 430Lx330Wx680H | 350x250x50 | 31.8kg |
| CM-606 | 0-600℃ | 3200W | 480Lx340Wx680H | 400x260x50 | 37.8kg |
| CM-608 | 0-600℃ | 3500W | 530Lx380Wx680H | 450x300x50 | 49.1kg |
Desk quadrate type:
| | | | | | |
| --- | --- | --- | --- | --- | --- |
| Model | Range | Power | Whole size(mm) | Pot size (mm) | Tin capacity |
| CM-558 | 0-600℃ | 300W | 327Lx175Wx120H | 55x55x45 | 1.32kg |
| CM-107 | 0-600℃ | 500W | 266Lx145Wx120H | 100x70x45 | 2.3kg |
| CM-118 | 0-600℃ | 600W | 327Lx175Wx120H | 110x80x45 | 2.7kg |
| CM-101 | 0-600℃ | 800W | 327Lx175Wx120H | 100x100x45 | 3.2kg |
| CM-141 | 0-600℃ | 900W | 397Lx205Wx120H | 140x100x45 | 4.5kg |
| CM-161 | 0-600℃ | 1000W | 397Lx205Wx120H | 160x110x45 | 5.7kg |
| CM-181 | 0-600℃ | 1200W | 446Lx245Wx120H | 180x140x45 | 8.2kg |
| CM-201 | 0-600℃ | 1500W | 446Lx245Wx120H | 180x140x45 | 9.8kg |
| CM-252 | 0-600℃ | 1800W | 536Lx285Wx120H | 250x160x45 | 13.1kg |
| CM-282 | 0-600℃ | 2000W | 536Lx285Wx120H | 280x200x45 | 18.3kg |
| CM-206 | 0-600℃ | 1000W | 420Lx100Wx110H | 200x100x45 | 6.5kg |
| CM-208 | 0-600℃ | 900W | 420Lx120Wx110H | 200x80x45 | 5.2kg |
| CM-268 | 0-600℃ | 1000W | 470Lx120Wx110H | 250x80x45 | 6.3kg |
| CM-308 | 0-600℃ | 1200W | 520Lx120Wx110H | 300x80x45 | 7.9kg |
| CM-206 | 0-600℃ | 1000W | 420Lx140Wx110H | 200x100x45 | 6.5kg |
| CM-261 | 0-600℃ | 1200W | 470Lx140Wx110H | 250x100x45 | 8.2kg |
| CM-302 | 0-600℃ | 1500W | 520Lx140Wx110H | 300x100x45 | 9.8kg |
Working conditions:
Working voltage: AC220±10V
Working temperature: 0-55℃
Working temperature: < 90% no dew